Due to complications of COVD-19 regulations,
the

2021 Rusty Iron is cancelled 
Stay in shape, everyone, and we'll see you in 2022!
22nd Rusty Iron Race
Sanctioned by
Tentative date:
Saturday, April 23, 2022 
Watch for details in March 2022
Frenchman's Bar Park, Washington
9612 NW Lower River Road, Vancouver, WA 98660
Best-laid-plans Schedule
 8:00 a.m. — Registration opens
 9:30         — Steers' meeting

10:00        — Short course for all divisions & canoe types                                                                   (4-mile course good for novices, youth, OC1's, etc.)
11:30*       — Long course** (8-9 miles)  Mixed & Kupuna OC6                                      11:32        — Long course** Women OC6
11:00-2:00 or so — Enjoy a grilled hamburger lunch for $7                                                                      Includes trimmings and salad
 1:00 p.m.* — Long course** Men OC6  
 2:30           — Awards and Raffle drawings 
                          — Many prizes generously donated by:
NW Style & Urban Bags
*or 15 minutes after completion of prior race 
**  Open to Juniors, Novice, Open, Masters 40, 50, 60 & 70
       Because of canoe availability, some mixed crews may paddle with the men
We are responsible for removing the trash we generate – please help with recycling.
 Points to Note
$ fee per paddler includes morning snacks, coffee, water, insurance, PNW ORCA fee, all-day racing and a super nice fleece throw while supplies last.
Juniors (age 19 and under) pay $ to cover PNW ORCA fee and insurance.
Frenchman's Bar Park parking fee is $3 per vehicle and $6 per vehicle with a trailer.  When fee booths are not staffed, park users will need to use self-pay stations.  Only cash will be accepted at self-pay stations.  Under Clark County Code, failure to pay parking fees could result in a $40 fine.
The Rusty Iron is sanctioned by Pacific Northwest Outrigger Racing Association (PNWORCA) and insured by Paddlesport Risk Management, LLC (PRM).  Race rules, regulations and safety procedures are in accordance with PRM and PNWORCA. PNWORCA Official Rules
Pacific Outrigger must certify to PRM, that all canoes have working and accessible PFD's for every person on board.  The PFD's must be US Coast Guard Class I, II, III or V approved.  Each canoe must have at least one working bailer and a whistle.  There will be a pre-race inspection of every canoe.
All canoes must have PNWORCA assigned numbers applied prior to racing.
Vehicles with trailers use caution when entering and exiting the park.  It's a tight turn into the park by the large park sign that narrows the entrance and exit road.
 Race Paperwork

Team contact completes one Rusty Entry Form for each race entering and submits with waivers and payment to registration.
Waivers:

All paddlers must sign a 2020 PRM waiver.
A  PNWORCA Waiver  (2 pages) is needed

if paddler has not submitted one in a prior year
if paddler's information has changed since submitting in a prior year
Race Description & Cautions
The races are on the Columbia River and start from the rigging area at Frenchman's Bar Park.  The short course will start downstream (north), turn at 2 miles and finish at the start line.  The long course (yellow line in photo along east side of river) will start upstream (south) and turn at about 2 miles, go downstream about 4 miles, turn and f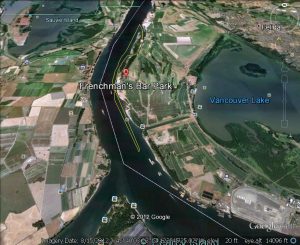 inish at the starting line.  The short course is approximately 4 miles and the long course is approximately 8 miles.
Though the beach area is shallow, be aware of sudden drop-offs and strong currents.   The beach is unguarded.  The Columbia River is an open commercial waterway.  Ships, tugs, barges and possibly fishing boats will be present on the river.  Stay out of their way–please use caution and common sense.
We recommend that you bring shelter and an adequate supply of clothing to keep warm and dry in predictable rain and cool spring weather.
Frenchman's Bar is a lush 120-acre regional park located  in Clark County on the Columbia River about two miles west of Vancouver Lake Park. It features a wide variety of outdoor recreation opportunities and nicely fits our needs for competitive racing.  The expansive beach and play area provides ample room for rigging and play.
Frenchman's Bar Park gives the following advisories:
Unguarded beach and river
Fast currents
Water depth varies
Sudden river bed drop-offs
Swim at your own risk
Prohibited in the park:
Alcohol/drug possession
Tobacco products
Fires, Camping
Glass containers on beach
Directions to Frenchman's Bar Park
9612 NW Lower River Road, Vancouver, WA 98660:
From Portland on I-5 –
Take the WA-501/Mill Plain Blvd exit, EXIT 1C, toward Port of Vancouver (.3 mi.).
Turn left onto WA-501/E Mill Plain Blvd. Continue to follow WA-501 W (6.9 mi.)
Frenchman's Bar Park is on the left (2 miles west of Vancouver Lake Park).
From North on I-5 –
Take the East-4th Plain Blvd-West exit, EXIT1D.
Keep right at the fork in the ramp and Turn slight right onto E Fourth Plain Blvd (1.5 mi.).
Turn right onto NW Lower River Rd/WA-501 (5.1 mi.).
Frenchman's Bar Park is on the left (2 miles west of Vancouver Lake Park).
Race Venue Map
Rusty Contacts
 Race Information  Kirk Sharrer, Race Director, kmcksharrer@comcast.net
Race Registration   Charlene Dickinson, allan4418@msn.com
The information regarding this race is intended to be as accurate as possible.  Conditions of the day may determine that changes could happen.
2013 Logo Credit:  John Swanson, Manvil